On October 24th, 2021, the Dialogue between the Doctrine of Criminal Law and the Sociology of Criminal Law sponsored by the Law School of Nankai University was successfully concluded in conference room 123 of the Law School of Nankai University.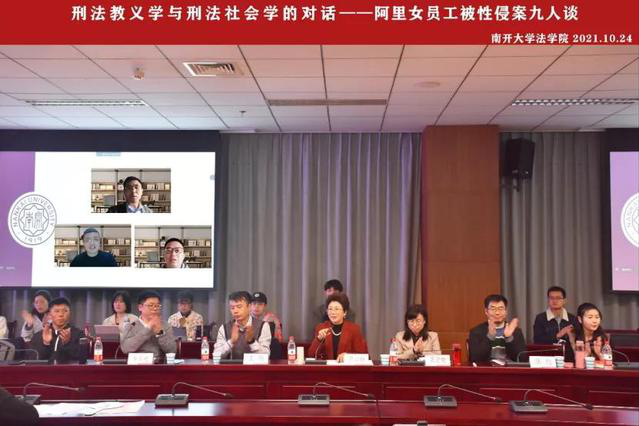 Professor Zhang Xinxiang, Associate Professor Wang Bin and Associate Professor Zou Bingjian from The school of Law of Nankai University were the keynote speakers. Associate professor Ma Yinxiang at East China University of Political Science and Law of criminal law, associate professor Song Weibin at school of law Chinese people's public security university, assistant professor Shao Liuyi at school of law, Minzu University of China, assistant professor Wei Jia, Law School of Nankai University, Judge Zhang Aixiao of Tianjin High People's Court and Prosecutor Lu Xu of Tianjin People's Procuratorate were the guest speakers.
This activity focused on the theoretical disputes between the doctrine of criminal law and the sociology of criminal law, and launched in-depth academic exchanges and theoretical discussions. More than 400 audiences participated in the dialogue, both offline and online.
The activities are divided into main talk and free discussion. The offline and online audiences asked the participants questions about the rights of female victims, the analytical methods of sociology of law, and the identification standards of false accusation and frame-up based on the specific situation of the case.
In the end, Professor Zhang xinxiang shared the original intention of holding this activity, expressed the sincere thanks to the audiences, and called on students to pay more attention to academic issues.